COVID-19: We are fully operational at this time. To practice social distancing we are minimizing in-person customer interaction and prefer phone calls or emails.
Our Facilities at Boundary Bay Airport Delta, BC
The Boundary Bay Airport Heritage Hangar is a large framed, bow-arched structure valued as a rare surviving Canadian example of a hangar design from World War II and a symbol of the Nation's wartime experience." Canada West Avionics Ltd. (CWA) is proud to now be apart of this legacy and to have the viability of our Canadian heritage buildings continue. In early 2017, we set up shop in the CZBB hangar which is located within minutes from YVR and a quick flight from YYJ and SEA.
Gordon Bott
Gordon is the President and owner of Canada West Avionics Ltd. He has his AME "E" license, PRM, and is a Certified Technologist. Gordon has been 100% employed in the field of avionics since 1985 and was previously the VPGM at Pacific Avionics & Instruments until its closure due to a corporate intercompany merger. He started his career as an avionics bench technician, and has prepared many avionics modification, compliance, and engineering packages for all types and sizes of aircraft and rotorcraft over the years.
Gordon is an expert at avionics system integration, planning, and implementation, and all aspects of flight recorders. With his strong managerial and leadership qualities, Gordon enjoys working to ensure the highest quality in all projects and to promote continuous improvements in all company areas.
James Michek
James started his career in IT in 1986 and spent 18 years in electronic repair, specializing in PC and Server maintenance. He later moved to avionics at Pacific Avionics & Instruments in 2005 and began working on line maintenance and installs as well as manufacturing of commercial aircraft harnesses. James has worked on all types of fixed-wing aircraft including business jets, large and small single and twin engine aircraft, and rotary aircraft. He wrote the CAR's exam in 2016 and has his AME "E" license. James is full of valuable experience and is enthusiastic about his work; he lights up the office with his smile and cheerful personality.
Robert Saunders
Robert graduated from BCIT's Avionics and Structures program and has been in the avionics industry since 1985. Robert brings immense experience and knowledge to Canada West Avionics. He is an expert in aircraft instrument repair and overhaul, avionics installations, FDR/CVR evaluations, and system integration. Previously, Robert was a licensed private pilot and glider pilot and in his spare time is brave enough to attempt a restoration of a wooden boat. Robert was also a crucial member of our huge CWA renovation project.
Sean Stevens
Sean is a licensed AME 'E' and has extensive experience on a wide variety of aircraft. After completing an avionics diploma at BCIT in 2008, Sean spent four years at Air Canada as a licensed engineer, gaining several air-frame and avionics system type endorsements. Moving to Pacific Avionics & Instruments in 2012, Sean's focus shifted to line-maintenance and installations. With this added experience, Sean brought a very welcome depth of knowledge to CWA in early 2017. With a strong focus on quality, Sean enjoys the challenge of troubleshooting all aspects of aircraft avionics systems, system design and integration and supporting our clients.
Afzal Rahim
Afzal spent many years as a Licensed Aircraft Maintenance Engineer before circumstances steered him into a career change. He wished to stay in the aviation industry, so utilizing his interpersonal and communication skills he was able to make a smooth and successful transition to sales and technical/customer support. Afzal is a natural at building relationships and models ethics, integrity and transparency. He is stimulated by challenging problems and has been a pacesetter in an operations improvement, as well as sales and service.
Berno Swart
Berno has worked in the aviation industry since 2009. He started his career in South Africa where he worked for multiple avionics companies. Berno's experience comes from being involved in avionics retrofit projects, aircraft instrument repair/overhaul, and line maintenance on various fixed wing and rotary aircraft.
Since moving to Canada in 2013, Berno has worked as an instrument technician with a specialty in gyroscopes. Berno plays a huge role in many projects at CWA and is remarkably dedicated to his work. He approaches all of his projects with a perfectionist's attitude, and is a very reliable member of our team.
Catherine Bott
Catherine is now focused solely on Canada West Avionics Ltd.'s financial and operational needs after a long career as a bookkeeping and accounting contractor for various clients. She is excited to continue to assist in the development of CWA as a successful local Canadian business and help it to always be a great place to work.
Matthew Oh
Matt is a young energetic avionics technician who graduated from BCIT in early 2018. He is always working hard and pays attention to details. Matt dreams of becoming, not only an experienced avionics technician but,  a very respected avionics technician. He is certainly on his way. Matt loves sports, particularly snowboarding, and any time he's not working we can find him up in the mountains.
Gregory Fong
Greg is known to be…'the friendliest person you'll deal with on the phone". Nice to have that said about one of CWA's employees! Greg has three decades of successful sales, marketing and customer service under his belt with highlights in sports merchandising and the banking industry. Time away from work is spent with his wife and 4 boys. Greg has also always been involved in his community by coaching football all the way up to the varsity level.
Alexander Bott
Alex graduated from Emily Carr University of Art and Design in early 2019, with a focus in Industrial and Product Design. At CWA, Alex was our primary designer of our new, modern, and beloved shop and office space. He is also always working to improve our efficiency and aesthetic. Alex is also focusing on design and creating panels and parts for our avionics modifications using our new CNC router, laser cutter and powder coating equipment. While visiting the shop, be sure to check out our work benches, desks, and shelving units as they are designed and created by our very own fabricator.
Visit @axbot on Instagram to see more of his impressive work.
Joshua Derish
Josh is the newest member of our Canada West Avionics team and we are thrilled to have him. Josh graduated from the BCIT Avionics Program in 2007 and earned his AME E License in 2009. After graduation, he went directly to Penta for 6 years where he gained a great amount of experience on corporate jets, Hawkers, Bombardiers, Dassaults and Citations to name a few. Josh then moved to Avmax where he gained experience and knowledge in general aviation and was a key member for their mobile repair service travelling extensively from Yellowknife to Buenos Aires. When Josh isn't working, he is with his wife and 3 children riding bikes and enjoying adventures.
BeechTalk – Avionics Shop Seattle Area
Gordon Bott, at CW Avionics, has been wonderfully prompt and detailed with fast quotes and correspondence.
BeechTalk KFC AP
I approached Gordon Bott at Canada West Avionics at CZBB (Boundary Bay) before Christmas about an Aerospace Logic fuel gage, an AOA, and some small lighting issues. He promised me a quote as soon as possible.
He very kindly, and very quickly had the pitch servo removed and we confirmed that one of the switches was broken. He kept the servo ad will order the parts today.
Really good service to this point.
Nanaimo Flying Club
Does your aircraft need avionics work done?
A new facility has opened at Boundary Bay Airport, operated by technicians with decades of experience. The annual ELT recertification can be done on a "while you wait" basis, other services include everything from the bi-annual transponder/altimeter check through to full-panel replacements.
Upgrades are preformed completely on-time, on-budget, with excellent results and professional service throughout the project.
North Cariboo Air
Gordon, Congratulations, [on the start-up of CWA] and best wishes for your new company, good to have your expertise out west.
West Coast Location with International Reach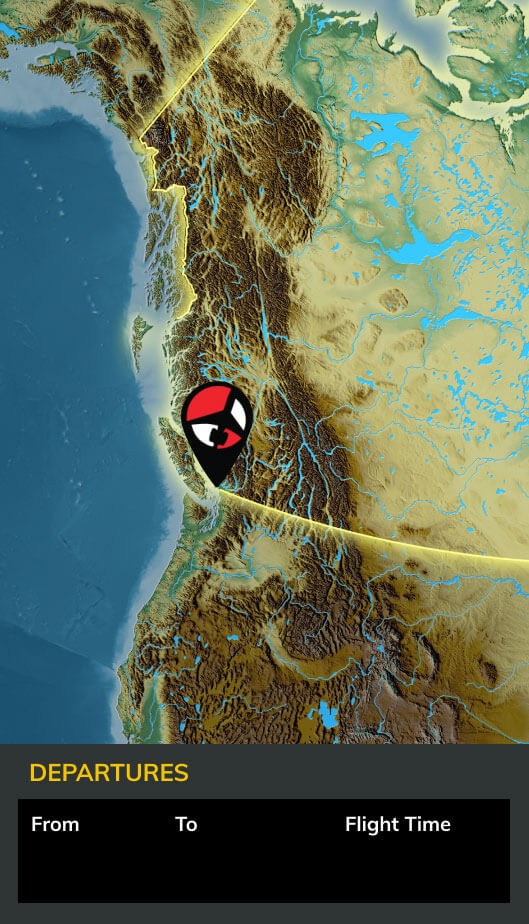 Canada On-Site Services
We are located at the Boundary Bay Airport in Delta, BC. CZBB has a 5600 ft runway and our hangar has plenty of room for even the largest jet.
Land at our Doorstep